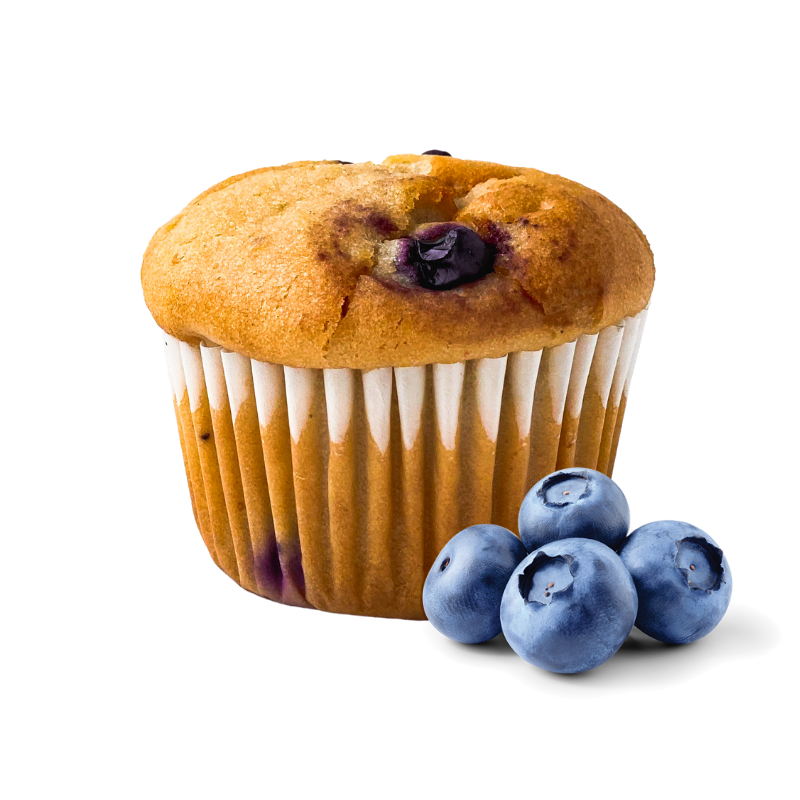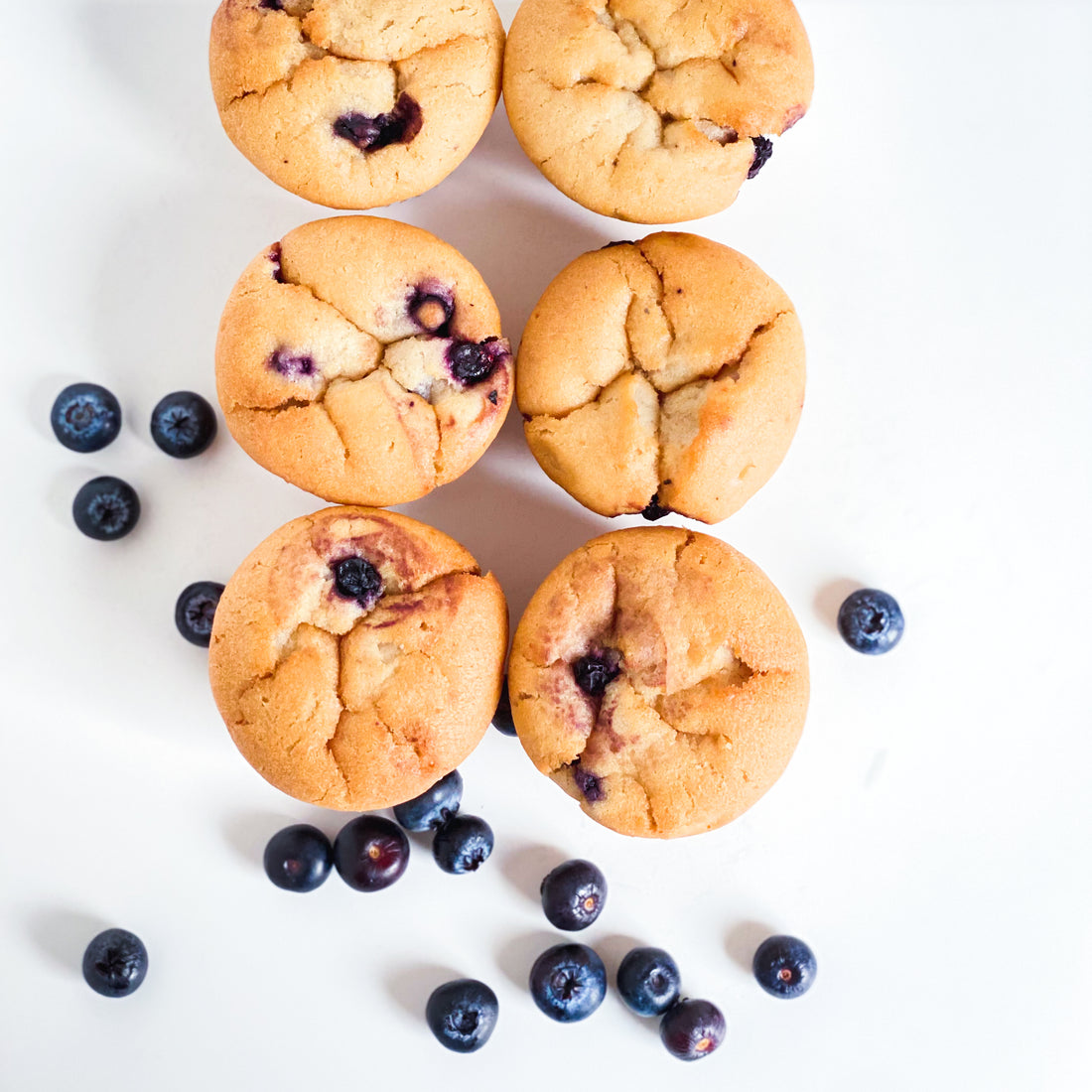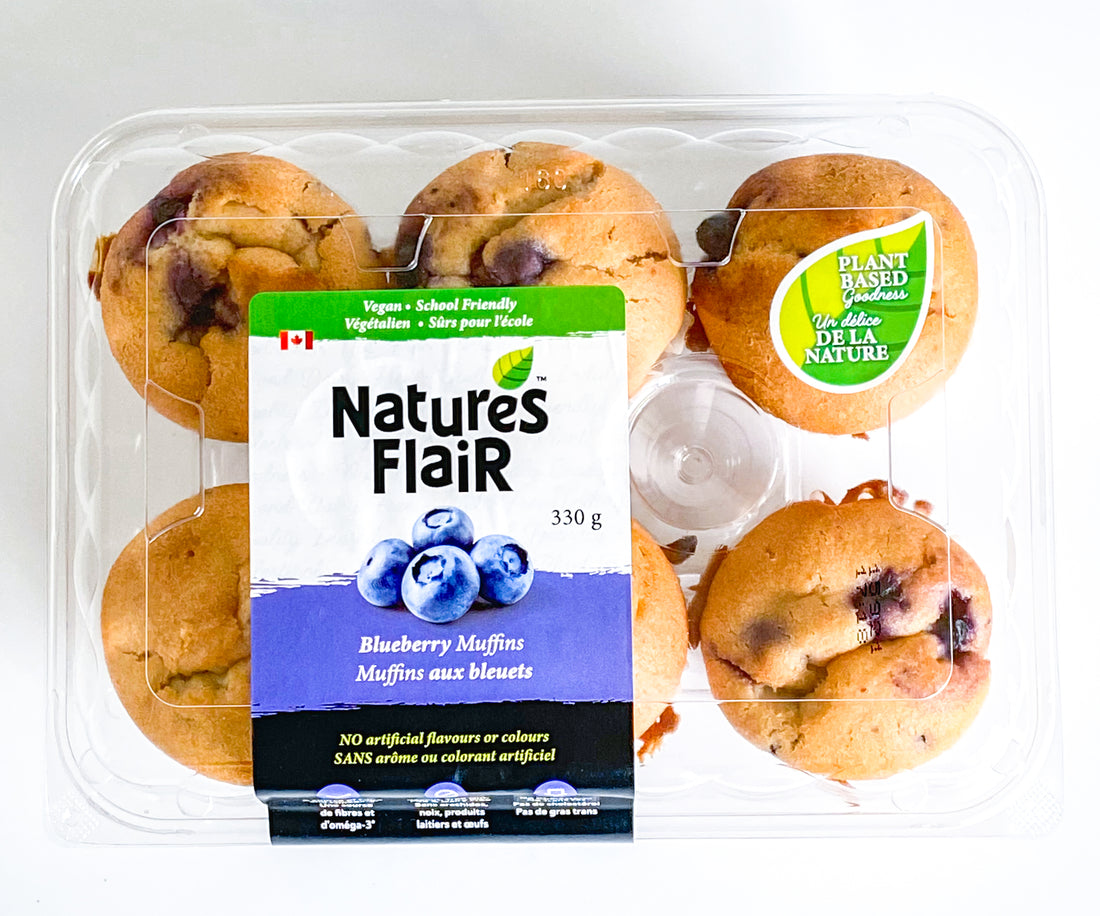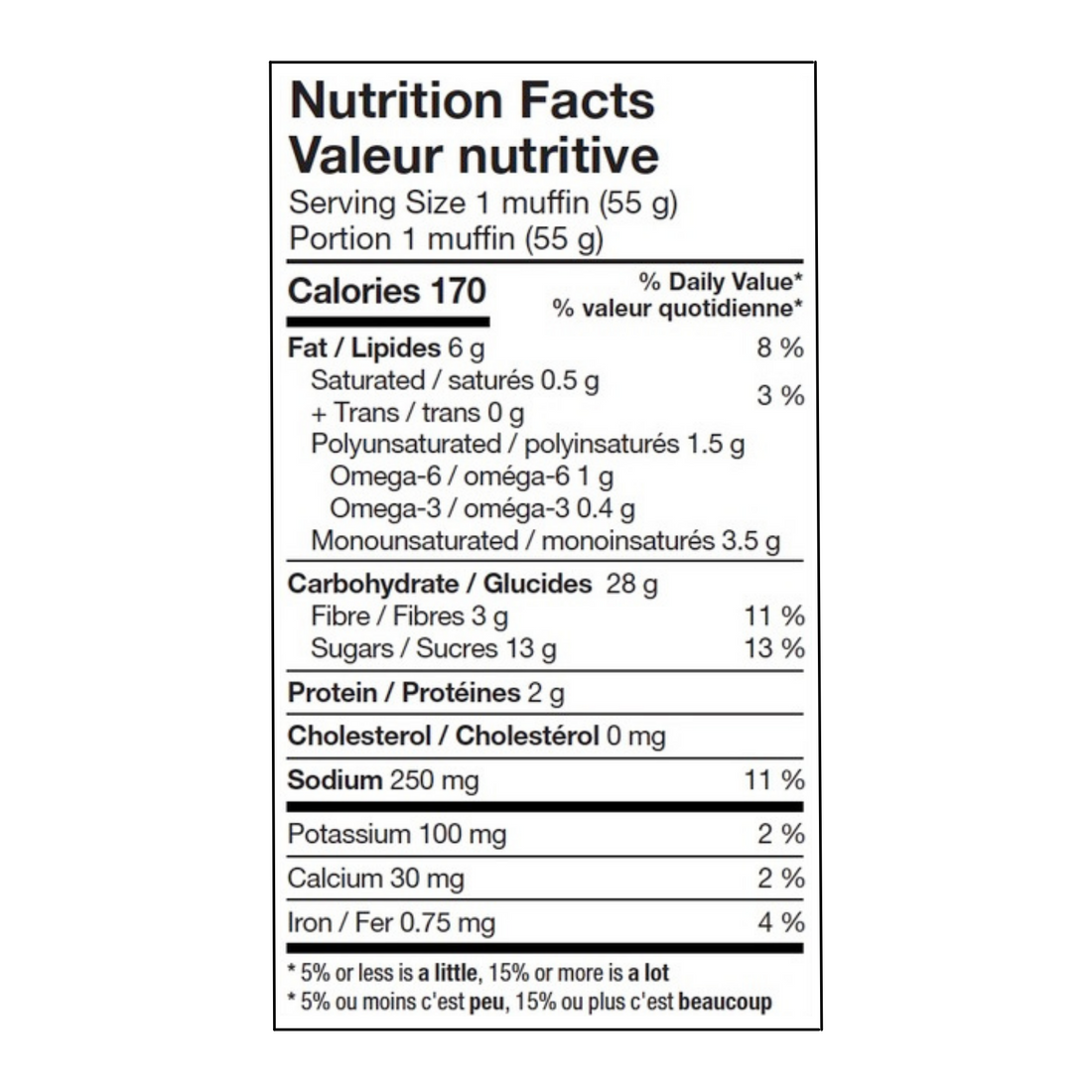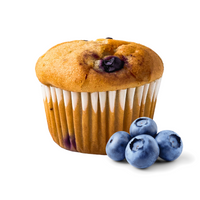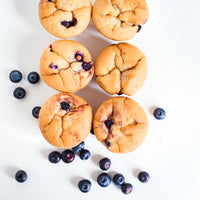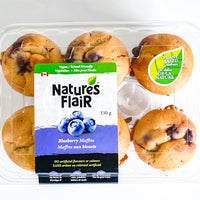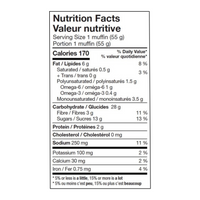 Our blueberry muffins are soft, moist and bursting with juicy flavour.
Our blueberry muffins are soft, moist, and bursting with juicy flavour. They're packed with superfoods: turmeric, oats, and fava beans making them perfect for breakfast or an on-the-go snack. 
Our muffins are baked in a dedicated facility that is free of Dairy, Eggs, Peanut and Tree Nuts.
Plant-Based | Vegan | Dairy-Free | Peanut-Free | Tree Nut-Free | Egg-Free | Fish & Shellfish-Free | Sesame-Free | No Artificial flavours or colours | Certified Kosher
Nutrition Facts Valeur Nutritive
Serving size / Portion: 1 muffin (55g)
Calories 170
% daily Value*
% Valeur quotidienne
Fat / Lipides 6 g
Carbohydrate / Glucides 28 g
Protein / Protéines 2 g
Cholesterol / Cholestérol 0 mg
Sodium 250 mg

* 5% or less is a little, 15% or more is a lot
* 5% ou moins c'est peu, 15% ou plus c'est beaucoup
We offer shipping for muffins and cupcakes for delivery within the GTA. Please allow 3-4 days for products to be fulfilled and shipped.
Click here for more information.
Water, Enriched wheat flour, Cane sugar, Blueberries, Canola and/or soy oil, Banana puree (bananas, citric acid, ascorbic acid), Oat fibre, Fava bean powder, Modified corn starch, Rolled oats, Natural flavours, Sodium acid pyrophosphate, Sea salt, Sodium bicarbonate, Citrus fibre, Monoglycerides, Potassium sorbate, Monocalcium phosphate, Xanthan gum, Enzymes, Ground turmeric.
Contains: Wheat. May Contain: Soy.
Amazing Vegan Muffins
This muffin is absolutely delicious! I purchased the blueberry muffin and the first thing I noticed as soon as I opened the package was the whiff of blueberries which was really enticing. The package comes with 6 muffins and they truly look enticing. From every angle you're able to see nice, fresh plump blueberries. After taking off the paper holding the muffin, I found that it was super soft and moist to touch but not too soft that it crumbled in my hand or stuck to my fingers too much. My kids absolutely devoured these! The muffin has the perfect balance of a nice moist top and a nice hold in the middle. Believe me when I say you could easily give this to a non vegan and they literally would not know. I'm definitely trying all the flavours and I'll be sure be purchasing the blueberry muffin again.
good taste
Honestly I am amaze that there is a dessert that is now plant based.. The muffin tastes good it is moist not that sweet the smell is like a spoiled food because of the ingredients but it's fine it doesn't affect the taste of the muffin. My kid like it so definitely I will buy this product again
Yummy Muffins, Healtier & Vegan
Muffins taste delicious with perfect sweetness balance. I personally find most store bought muffins too sweet, but this was ideal. I love how they used healthy ingredients and made it vegan. Texture was perfect as well, not too soggy and not dry at all. Moist and rich. Blueberries are enough and tastes good. Exceeded my expectations.
The moist muffin
Starting with the package, well made secure package. Simple, yes effective design and logo, a touch small. Muffin was on the soggy side of the scale. Few blue berries in each muffin. Tasted quite good, muffins were on the smaller side but tasted fresh. Smelt good for pre packaged muffins, would purchase again. Also vegan friendly so that's a added bonus.
A "Must Try"
Very Enjoyable. The Nature's Flair vegan muffins are packed full of flavour; identical in taste, texture and sweetness of a traditional muffin. I feel good about the ingredients featured in these muffins and will be purchasing them again based on my enjoyment of them. It is truly a "must try".
FREE FROM 9 COMMON ALLERGENS
CERTIFIED
Kosher
Products ingredients, production facility and actual production ensure that all ingredients, derivatives, tools and machinery have no trace of non kosher substances.
Vegan Certfied
Products do not contain animal products or byproducts and that have not been tested on animals.
FIND US IN A STORE

NEAR YOU