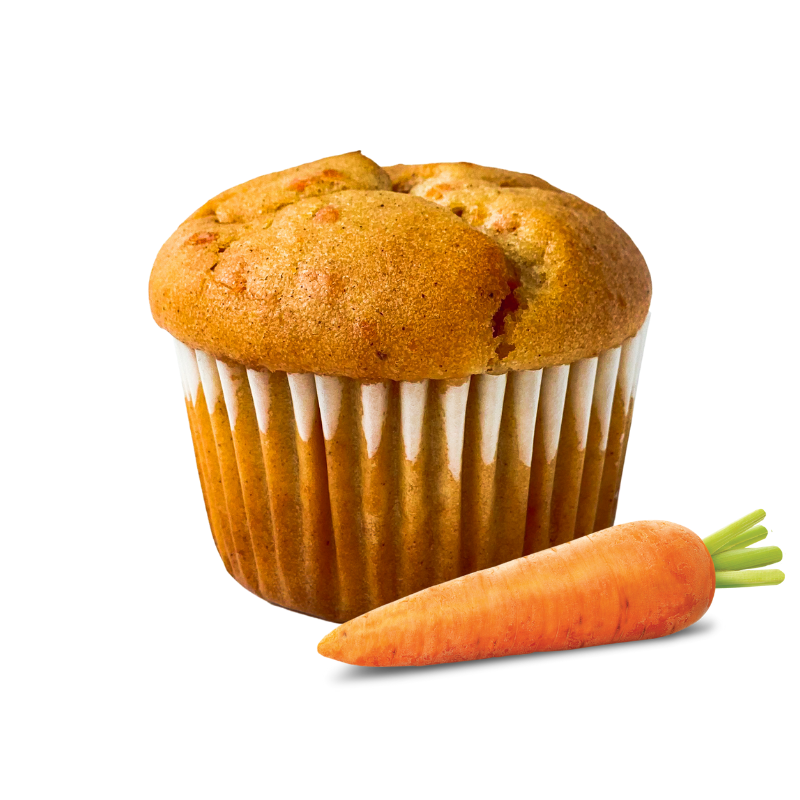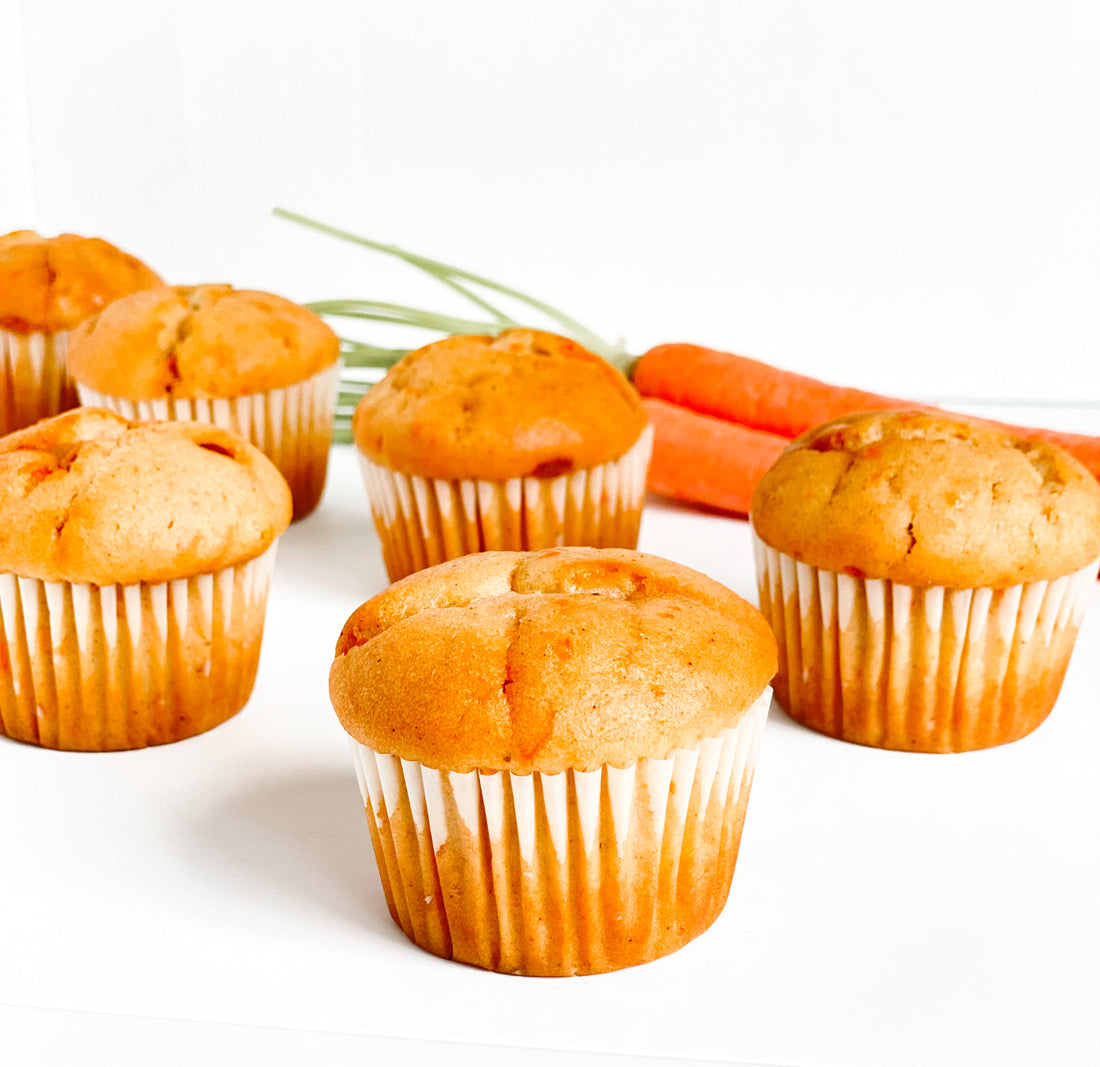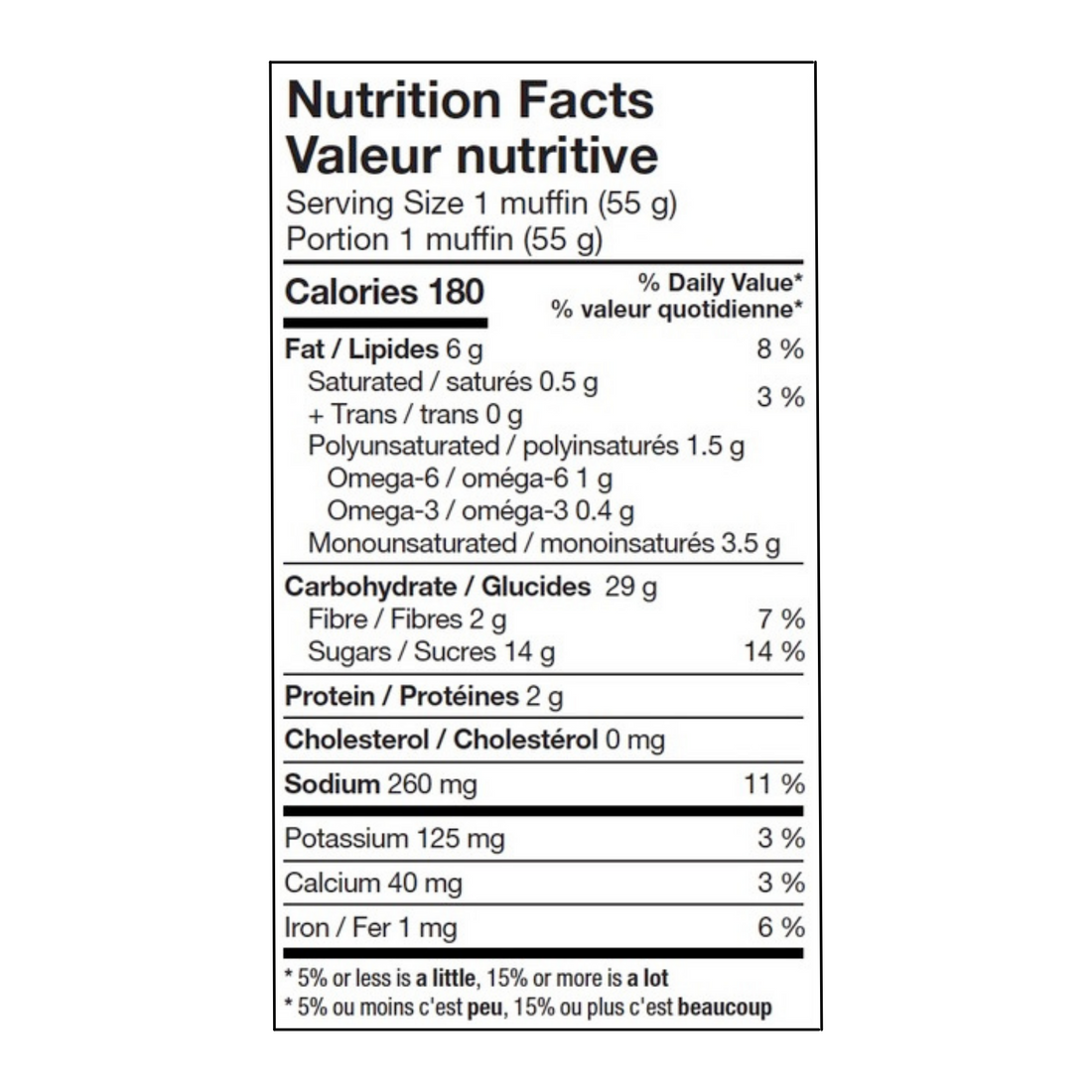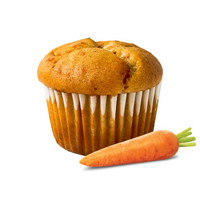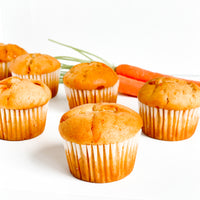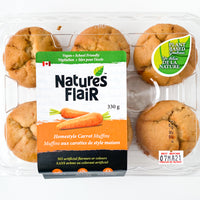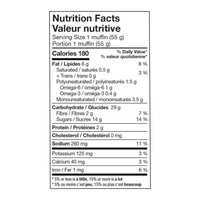 Made with cozy cinnamon and ginger spices and fresh carrots.
Our homestyle carrot muffins are made with cozy cinnamon and ginger spices and fresh carrots, making them the perfect breakfast or afternoon snack. 
Our muffins are baked in a dedicated facility that is free of Dairy, Eggs, Peanut, and Tree Nuts.
Plant-Based | Vegan | Dairy-Free | Peanut-Free | Tree Nut-Free | Egg-Free | Fish & Shellfish-Free | Sesame-Free | No Artificial flavours or colours | Certified Kosher
Nutrition Facts / Valeur Nutritive
Serving size / Portion: 1 muffin (55g)
Calories 180
% daily Value*
% Valeur quotidienne
Fat / Lipides 6 g
Carbohydrate / Glucides 29 g
Protein / Protéines 2 g
Cholesterol / Cholestérol 0 mg
Sodium 260 mg

* 5% or less is a little, 15% or more is a lot
* 5% ou moins c'est peu, 15% ou plus c'est beaucoup
We offer shipping for muffins and cupcakes for delivery within the GTA. Please allow 3-4 days for products to be fulfilled and shipped.
Click here for more information.
Enriched wheat flour, Water, Cane sugar, Canola and/or soy oil, Shredded carrots, Banana puree (bananas, citric acid, ascorbic acid), Crushed
pineapple, Modified corn starch, Fava bean powder, Oat fibre, Citrus fibre, Rolled oats, Sodium acid pyrophosphate, Sea salt, Sodium
bicarbonate, Monoglycerides, Monocalcium phosphate, Potassium sorbate, Ground cinnamon, Natural flavour, Ground ginger, Ground allspice, Enzymes, Xanthan gum, Ground turmeric.
Contains: Wheat. May Contain: Soy.
Good product and nice flavour
The mufin carrots flavor I have chosen was good. It was tasteful and the texture wasn't too soggy nor dry. I would definitely consider trying it again.
Delicious!
I absolutely love the taste of this product. My kids and I cannot have nuts, dairy, or egg, so I love that this is very convenient for us. This is by far one of my favorite muffins that I have ever tried that is suitable for our diet. The taste is delicious. I love warming it up with a bit of vegan butter on it too :)
Delicious carrots muffin
I tried carrots muffins and I found out they taste really delicious. They have enough moisture in them - that doesn't feel dry or soggy. I think it is perfect balance. They are plan based and they doesn't contained dairy which can be great in some cases. I really like carrots muffin because they are healthy and tasty at the same time.
New Favourite muffin
Today I had the opportunity to try Nature Flair carrot muffins from the Metro store near my home. And I was pleasantly surprised by the texture and the taste. My mother is on a strict vegan diet and she is always craving something sweet so I'm excited to share these delicious muffins with her. The have the right amount of sweetness and moistness. It is not dry tasting like some other vegan pastries. I really enjoyed the taste and I will definitely be back to try the other flavours!
Carrot muffins
Tried these for the first time today and loved them! So glad to have a vegan treat to add to my lunch. I'll definitely buy them again. Perfect amount of sweetness
FREE FROM 9 COMMON ALLERGENS
CERTIFIED
Kosher
Products ingredients, production facility and actual production ensure that all ingredients, derivatives, tools and machinery have no trace of non kosher substances.
Vegan Certfied
Products do not contain animal products or byproducts and that have not been tested on animals.
FIND US IN A STORE

NEAR YOU