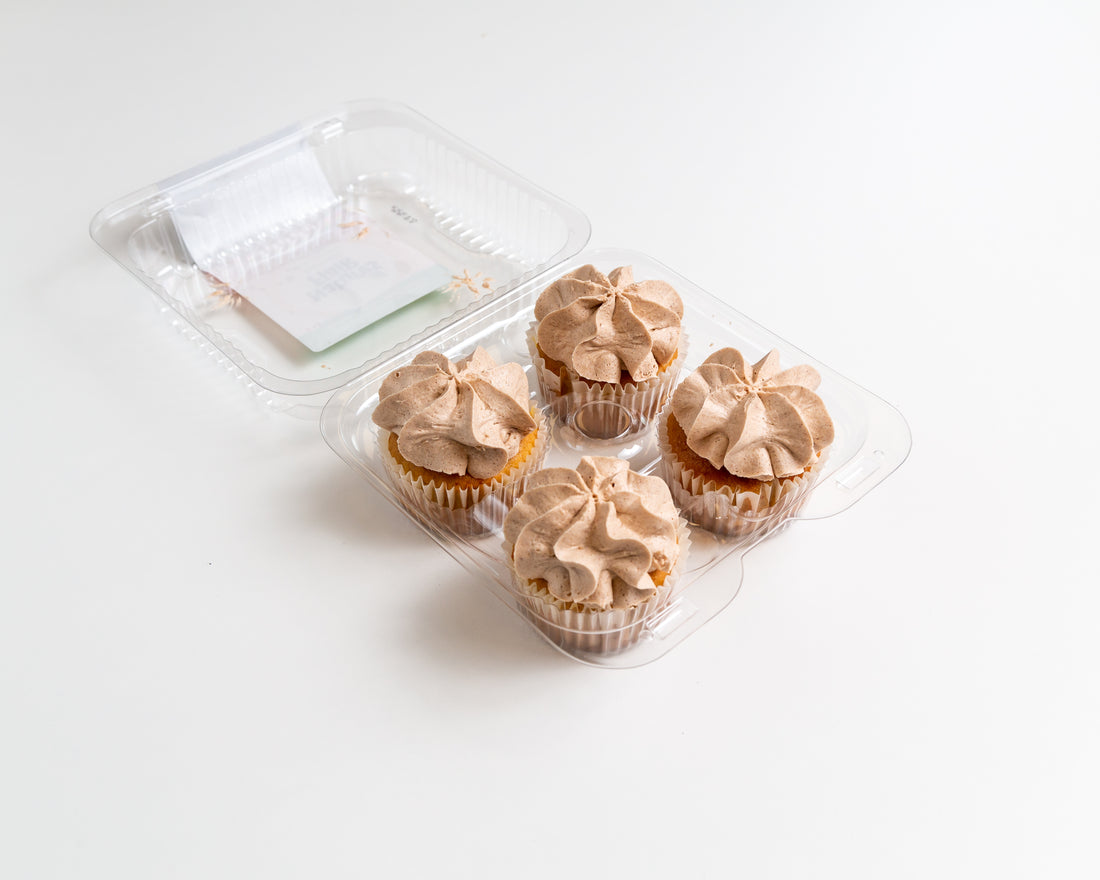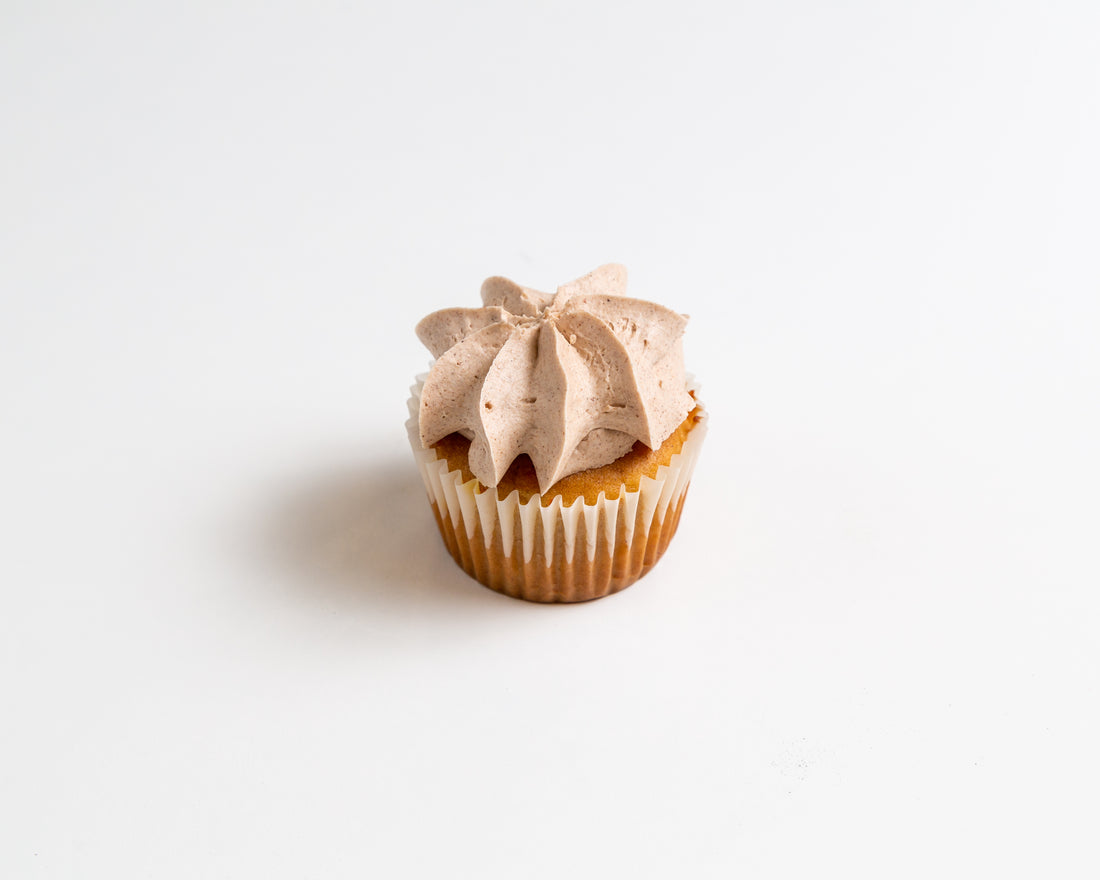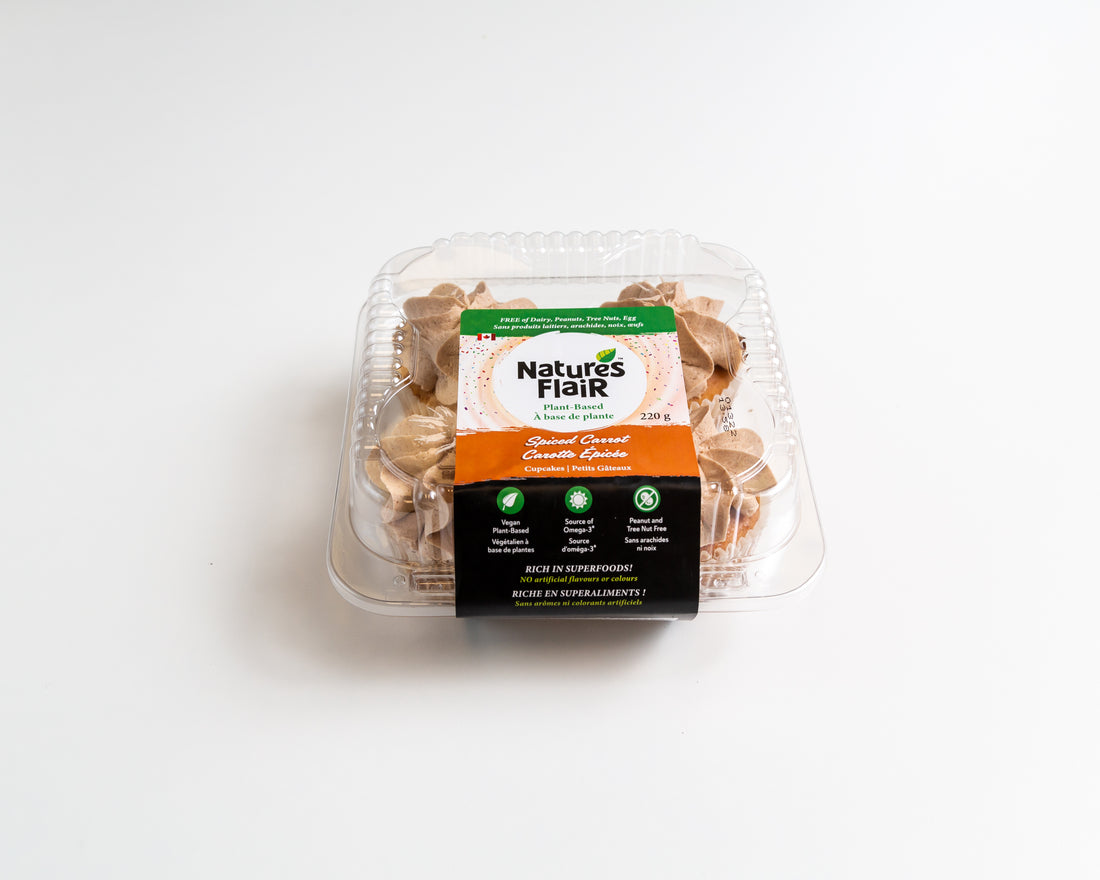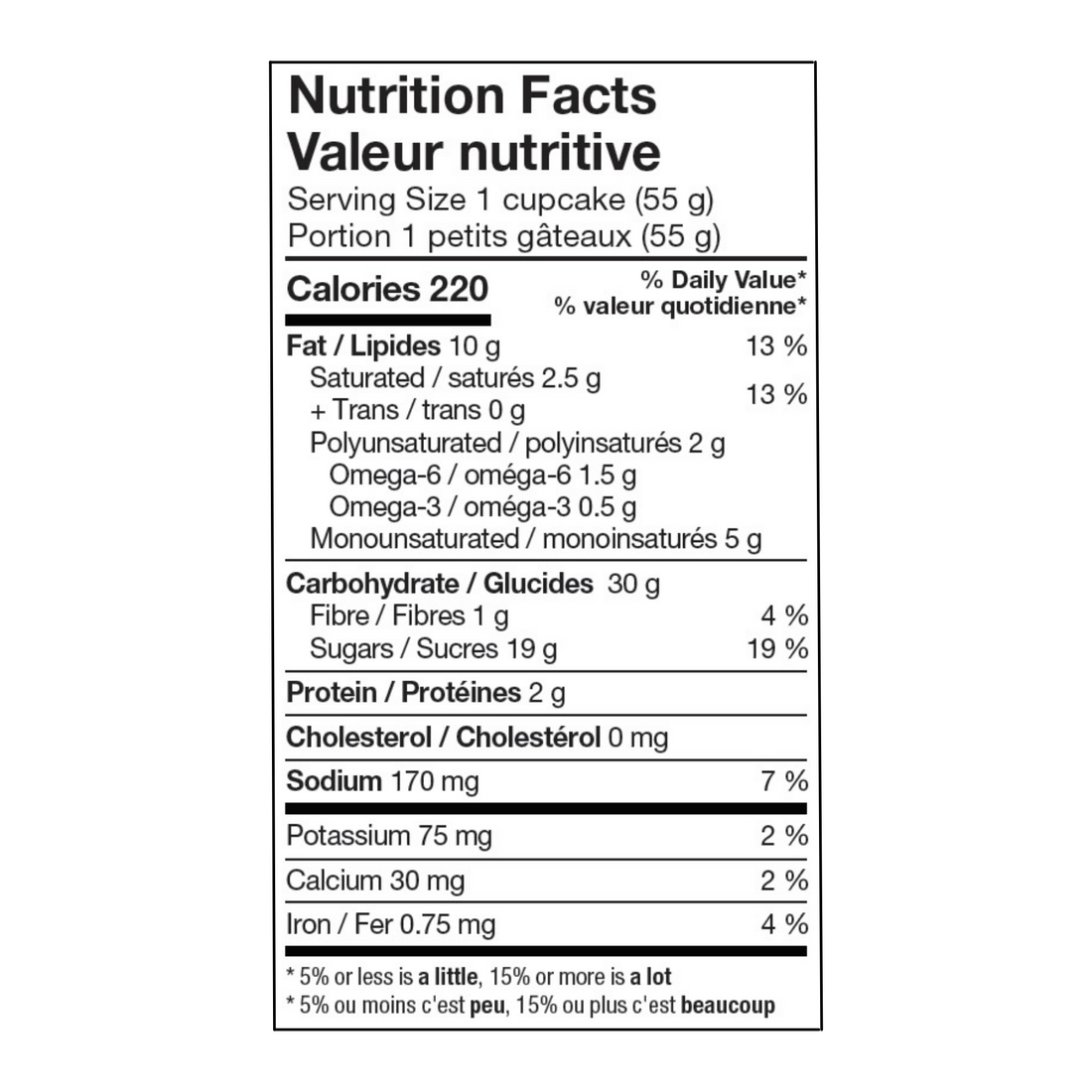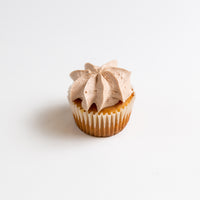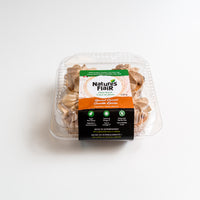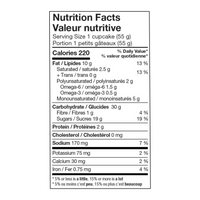 Spiced Carrot Cupcakes / Carotte Épicée Petits Gâteaux
Cozy spices, fresh carrots, and cinnamon cream icing.
Our carrot cupcakes are made with cozy spices, fresh carrots, and cinnamon cream icing. The perfect fall or holiday treat paired with a warm plant-based beverage. 
Plant-based and vegan friendly.
Nutrition Facts / Valeur Nutritive
Serving size / Portion: 1 cupcake / petits gâteaux (55g)
Calories 220
% daily Value*
% Valeur quotidienne
Fat / Lipides 10 g
Carbohydrate / Glucides 30 g
Protein / Protéines 2 g
Cholesterol / Cholestérol 0 mg
Sodium 170 mg
We offer shipping for muffins and cupcakes for delivery within the GTA. Please allow 3-4 days for products to be fulfilled and shipped.
Click here for more information.
Cake: Enriched wheat flour, Cane sugar, Shredded carrots, Water, Canola and/or soy oil, Banana puree (bananas, citric acid, ascorbic acid), Crushed pineapple, Modified corn starch, Fava bean powder, Rolled oats, Sea salt, Citrus fibre, Sodium acid pyrophosphate, Sodium bicarbonate, Monoglycerides, Monocalcium phosphate, Potassium sorbate, Ground cinnamon, Natural flavour, Ground ginger, Ground allspice, Xanthan gum, Enzymes, Ground turmeric.

Icing: Icing sugar, Palm and palm kernel and canola oil shortening, Water, Ground cinnamon, Stabilizer (modified corn starch, guar gum), Sea salt, Natural flavour, Citric acid, Potassium sorbate.

Contains: Wheat. May contain: Soy.
excellent product
Cupcakes very moist and tasty. They were a big hit in the house among vegans and non-vegans alike.
FREE FROM 9 COMMON ALLERGENS
CERTIFIED
Kosher
Products ingredients, production facility and actual production ensure that all ingredients, derivatives, tools and machinery have no trace of non kosher substances.
Vegan Certfied
Products do not contain animal products or byproducts and that have not been tested on animals.
FIND US IN A STORE

NEAR YOU